Backlink Checker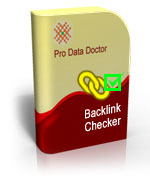 Backlinks checker software is an efficient and effective solution to find the advertiser website link status on the publisher websites. Backlink tool can search all type of website links such as direct links, java script links, reciprocal advertiser website links and all other links pointing to the user's website. Utility is useful for analyzing the weblinks of any site to enhance the website popularity on World Wide Web.
Reciprocal link analysis utility evaluates the total number of advertiser website backlinks which are available on the pre-defined publisher websites. Program supports both HTTP and HTTPS server protocols. Freeware back link checker tool can import websites list (on which you want to check backlink) in both CSV (Comma separated values) and text format.
Bulk backlink checker software can track weblinks for multiple website profiles at a single time with multiple publisher websites per advertiser site. Backlink analyzer software generates report of all scanned sites with a clear difference between the websites where link is found and where link is not found. These reports can be created in two commonly used file formats either html or text according to your choice.
Backlink monitoring software provides a facility to send automatically generated email notification to the user-specified email address for those websites where link is not available. Back link checker allows you to manage the list of publisher website along with corresponding email address at a single place separating by a delimiter.
Reciprocal link checker tool notifies publisher website owners by sending email when your website backlink is not found on their website or message like page cannot be displayed will occur. The backlink analyzer report gives a complete detail of total number of website scanned, the number of websites where backlink is available and the number of website where backlink is not available.
Backlink monitoring utility is helpful for promoting the page rank of your website by knowing the current reciprocal link status of the website.
Backlink checker utilities are designed to help you for the improvement of quality backlinks of advertiser website. Software is easy-to-install and does not need any special high-tech knowledge to operate it. Freeware backlink checker allows you to modify the present website profiles.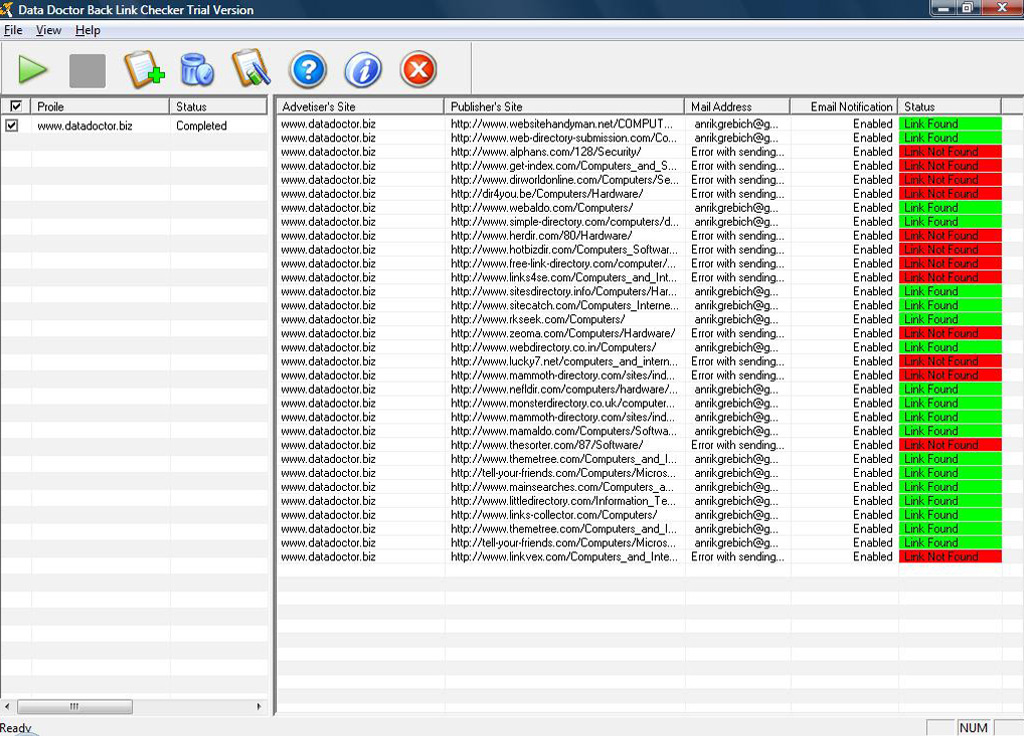 Software Features :
Backlink checker tool checks the backlink status of advertiser's websites on publisher's status.
Automatically send alert notification through e-mail at specified email-id.
Software utility generates total number of backlink status report in TXT or HTML file format for future reference.
Link Analyser tool is simple, reliable and easy to use for both technical and non-technical users.
Highly interactive graphical user interface makes the software more easy and flexible to use.
This cost-effective utility with its fast working proves to be the best alternative to all available complex and costlier utilities.
Software License Options :
Single user License
Multiple users License