Financial Accounting and Inventory Management Software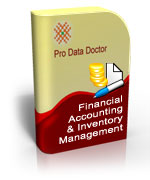 Financial accounting software is developed to efficiently manage company's business management system in appropriate manner. Simple and reliable financial accounting tool is a state of the art solution to serve the needs of modern day businesses via global accessing of financial accounts. Highly skilled managerial accounting software is the foundation for a completely integrated set of end-to-end business management applications.
Easy to use business financial software creates and manage business accounting details including Company details, Tax related information, Sales/Purchase order, Customer and Vendor records and other similar accounting records. User friendly accountancy management tool is useful for small and large enterprises to review total business transaction. The basic purpose of financial accounting software is to provide relevant information that is needed for sound economic decision making.
Business inventory management software records your day-to-day transaction in a convenient manner. Primarily the software creates a company record to insert sales and purchase details then calculates the profit or loss in your business by estimating all business expenses and incomes. Billing system software simplifies the management of your financial records by providing a fully computerized accounting solution.
Accounting software generate accounting reports including Sales/Purchase report, Balance sheet report, Profit and loss report, Production report and other useful accounting reports for total calculation of business accounting details. Comprehensive accounting and inventory control application provides backup and restoration features which makes it more usable.
Advanced accounting and inventory software is useful for both small businesses as well as large enterprises. Tool provides a facility to change the administrator password if it is disclosed due to any reason. Any non-technical person can operate this software with the help of save, delete, edit, view and print options.
Software Features:
Effectively maintains end to end business accounting transaction in computerized format.
Generate business accounting reports including Balance sheet, Trial sheet, Account report, Sale/Purchase report, Production report and many more.
Provide facility to export reports in PDF and Excel file formats.
Quickly and easily view transaction records including Voucher number, Item code, Date wise and Account wise.
Provide data connectivity facility that is helpful to fetch accounting records from local network connected machine or Local drive.
Facilitate to freeze data from selected date for extensive data security.
Facility to manage business accounts in various currency formats as per requirement.
Attractive and user-friendly GUI interface and easy to use for beginners and novice users.