Data Wiper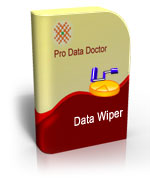 Secure data wiper software uses advanced disk wiping techniques to permanently delete all unused files and folders that contains confidential data from your hard disk or removable media drive. Data cleanup utility easily removes documents of recently used applications like Microsoft word, Excel, PowerPoint and Access.
Hard drive data sanitization software ensures a complete unrecoverable elimination of your private and sensitive records including usernames, passwords, financial reports etc. Data wipe tools securely erase internet explorer temporary files, cookies, system registry traces, typed website URLs, network folders, clipboard content, history folders and windows event logs.
Computer hard drives data wiper frees up your unallocated hard disk space by removing all useless data that has no longer use and occupied a large space on the disk. Files wiper software allows its user to switch from non-destructive wiping mode to destructive wiping mode. In destructive wiping mode data erasure tool erases all saved or unsaved files. Hard disk cleanup software wipes unused clusters which are not linked to any file system.
USB hard disk cleaner software improves the speed and performance of your computer system by deleting unnecessary files. Data eraser program is compatible with all USB supported removable media drives like pen drive, MMC card, smart media, compact flash memory stick, thumb drive etc. Hard drives sanitization utility can wipe selected or entire memory space of your storage volume as per your choice.
Computer data wiper supports both FAT and NTFS file system based windows operating systems. External hard drives cleaner application safeguards your computer privacy because the deleted data cannot be recovered back with any data recovery software. Data cleaner software can erase selected disk area sector range or entire logical drive partition.
Hard disk wiper software protects your personal information from any unauthorized access by completely removing it from your hard drive or USB flash drive.
Hard drives data sanitization software is able to delete all offline and online internet activities in a single mouse click. Utility is easy-to-operate that's why it is not required to give a specific training to the user to use this wiping solution. Formatting of your hard drive or emptying recycle bin does not remove data from your hard disk completely. Our advanced files cleaner software is capable to delete erased files permanently.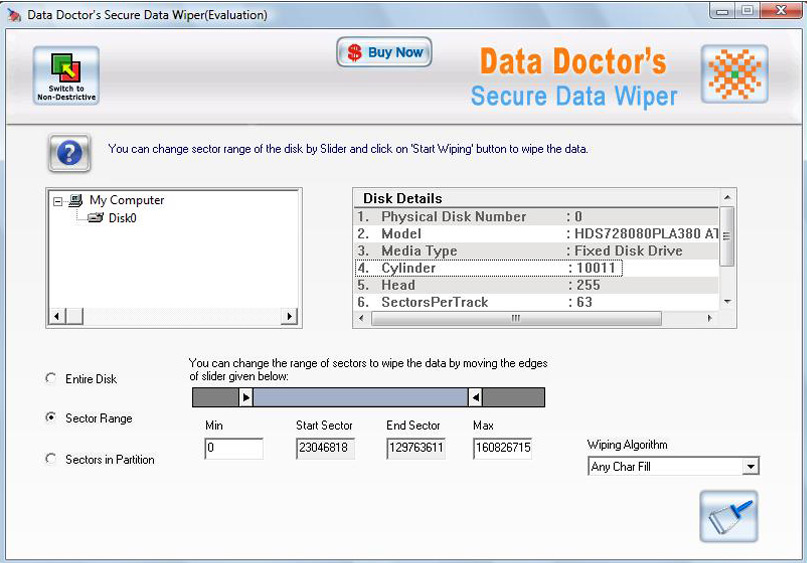 Software Features:
Data wiper software permanently wipes entire hard disk space in destructive and non destructive wiping mode.
Non-destructive wiping mode permanently cleans Unused Space (like deleted disk sector data storage area, unused disk space), traces of Internet Activities (like cookies, history, temporary internet files, typed URLs), System Activities (like administrator's temporary files, clipboard contents, windows event log, recent documents) and Applications (like MS office, MS management console, MS paint, MS WMP) etc.
Removal of deleted data and unused disk space enhances system's performance and computer privacy.
Destructive wiping mode deletes, saved or unsaved (deleted and undeleted) data from the disk space using Entire Disk, Sector Range and Sectors in Partition.
Secure data wiper is easy to use and does not require any technical skills to operate.
Online help manual is provided with the wiping utility for user's assistance.