KeyLogger Software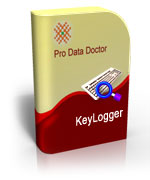 keyboard surveillance tool is a perfect computer monitoring software that can track and record user activities performed in your absence. Keylogger software captures all keystrokes including special characters, visited URLs, chat conversations, language specific characters, typed emails and search engine results along with date and time details.
Keyboard activity logger software runs in the background and records all typed information in password protected log files. Windows keylogger utility provides facility to send encrypted log file to the pre-specified email address. Invisible keylogger tool is not detectable by any antivirus, anti-keylogger or spyware software.
Keystroke monitoring software is completely hidden from control panel, add-remove program, start menu and program files list. Keyboard recorder application is well suited for both home and office users who need to monitor keyboard activities of their children's or employees. Keystroke logger freeware securely saves all online or offline internet records in such a way that the user is not aware of the reality that his computer activities are being monitored.
Keyboard capture software is capable to email keystroke details at specified email ID at certain time intervals. Remote keystroke logger has complete hidden installation from the computer users, as it does not appear in the task manager list displayed using (CTRL + ALT+ DEL) keys. Installing keyboard activity logger does not degrade your system performance.
Professional keyboard monitoring tool is cost-effective surveillance software that helps you to establish full control over your computer system. Powerful keylogger programs keeps constant watch on your company's computer usage. Freeware key logger application does not slow down the speed of your processor. Keystrokes recording software can save all pressed keys that have been ever entered from your keyboard.
Nobody can imagine that you can view his activities without your presence with the help of this undetectable keylogger. Keystroke monitoring tools save and monitor all keystrokes including the time when they are made and in which application they pressed. Advanced keylogger freeware supports an intuitive graphical user interface which does not require specified knowledge to operate the software.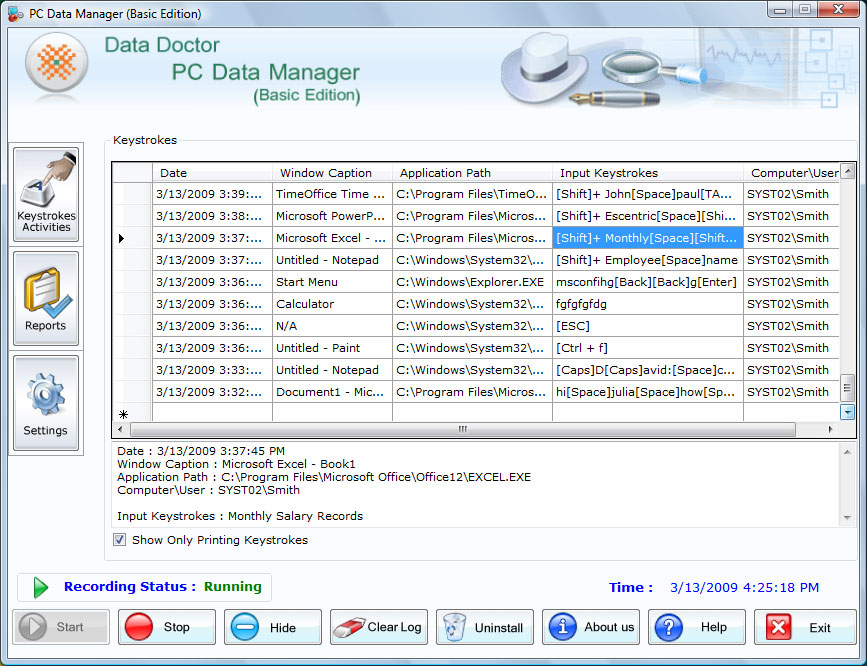 Software Features :
Key Logger utility monitors keyboard typed activities by running in invisible mode in the background.
All typed keystrokes including text documents, e-mail IDs, passwords, chat conversations can be securely and automatically recorded in hidden encrypted log files.
Password protected log file containing detailed keyboard activities in text or html format will be automatically send to user's specified email id.
Display last logging session or start time of the current session with total typed keys (in current session) on the Window.
Software provides highly interactive graphical user interface.