MySQL to MSSQL Database Converter Software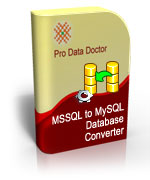 MySQL to MSSQL database conversion software is an affordable and easy tool for converting your MySQL database records to the MSSQL database records. Database conversion software supports all MySQL server data types and table attributes. Utility is read-only and capable to translate entire or selected part of a large database from MySQL to MSSQL database format.
MySQL to MSSQL data conversion tool has a capability to transfer authenticated password protected MySQL server DB files to corresponding Microsoft SQL files. Powerful database file converter can migrate single or multiple tables of MySQL database with ensuring their entity parameters. Software can easily and accurately convert index structures with all necessary attributes.
Professional MS SQL database converter is developed to convert MySql format into MSSQL database within minute time period. DB migration utility supports all prime attributes and key constraints of MySQL database like primary key, foreign key, unique key, null value and default value. Automatic database converter provides secure database conversion facility and supports Unicode architecture.
MSSQL to MYSQL database conversion program can convert individual data tables as well as relationship among these tables. Software either overwrites the existing MySQL database file with the resultant MSSQL database file or stores the resultant MSSQL database as a new file in a different location.
MSSQL database conversion software provides a user-friendly application wizard which makes its installation and operational process very simple. Tool offers both install and uninstall support. Database migration tool uses the fastest and easiest conversion techniques to migrate MySql to MS Sql database in a reliable way.
Download MySql to MSSql conversion solution that supports both windows and mix mode authentication methods. Application can translate MySQL database without knowing its size and complexity. Database migrating utility maintains integrity of database records. MySQL to MSSQL database translator rapidly converts the property fields of source database like null values, key attributes etc to the destination database.
Freeware mysql to mssql converter is able to transfer source database according to the destination database format.
Software Features:
Easily convert MySQL created database records into MSSQL database records.
Conversion of databases is performed with full structure support.
User will have the option of converting either whole database or some selected tables as per his requirements.
The converted MSSQL database can be saved at user specified safe location.
Any technical as well as non-technical user can easily operate the software.
All major versions of MySQL and MSSQL are supported by this conversion software.