Pocket PC Forensic Software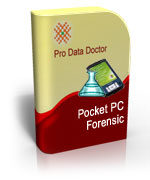 Pocket PC forensic software is a leading investigator application that provides you the detailed information about your pocket PC, PDA mobile device, smart phone and other equivalent electronic devices. Pocket PC monitoring utility fetches the in-depth information about the software and hardware architecture of all windows-based mobile phones.
PC forensics investigator software shows all data stored in the pocket PC device including SIM IMSI number, contact names, phone numbers directory and text messages. PDA forensic software examines your handheld device and displays all hidden files, operating system registry records, stored documents, phone information and database files.
Mobile investigation software supports all major pocket PC and smart phones such as Samsung SGH-i300, Gigabyte gsmart, Sharp W-Zero3 PocketPC Phone, Voxtel W740, Sierra Wireless Voq Phone, UTStarcom XV6600, T-Mobile MDA, Sony Ericsson PDA device, Texas Instruments WANDA reference design, Sprint Touch by HTC, Pantech smart phone, Nokia N- Series, E-ten 500, Sprint Touch by HTC etc.
Pocket PC forensics software allows you to save analyzed data report in a user-specified location on your hard drive. Synchronization settings of your mobile device are managed by Windows Mobile Device Center.
Mobile phone information viewer utility is designed and developed to show details of pocket PC mobile phones including phone model, manufacturing details, battery status, memory usage, processor architecture, operating system type and version, subscriber name and all other data which is related to your windows based cell phone. Pocket PC Monitoring Software supports a highly interactive graphical user interface and works with all major windows operating systems .
User does not require any special technical knowledge to operate this investigation program. Pocket PC investigative software can generate reports of extracted information in both text and html formats. Easy Pocket PC information analyzer extracts all read, unread, inbox, outbox, drafts and sent items SMSs from cell phone memory as well as SIM card memory.
Pocket PC mobile forensic software is helpful for scientific and investigative agencies where you need to find some important data from any PDA or smart phone. Application provides printing option to take the hard copy of analyzed data in a convenient way. Pocket PC surveillance tool supports all popular brands of Pocket PC and mobile phones like Nokia, Samsung, Motorola, Sony, LG etc.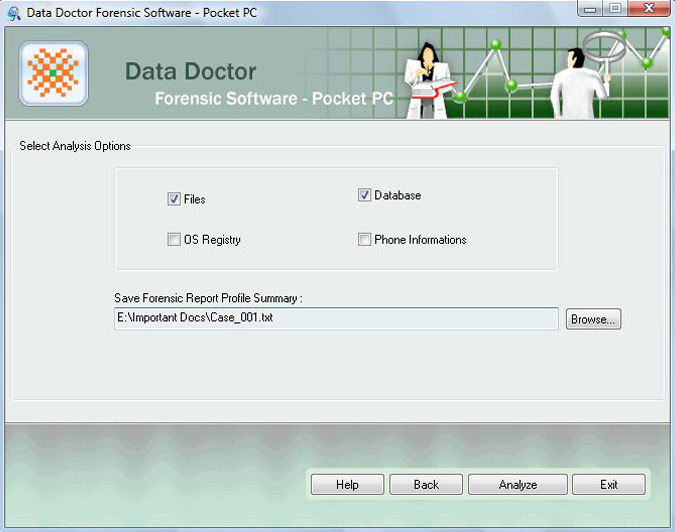 Software Features:
Pocket PC Forensic Software extracts detailed information of Windows based Pocket PC mobile phones.
Fetches complete information of mobile phone's files, databases, operating system registry and other cell phone information including Log details, Messages, Phonebook number, Appointments, Task, IMEI number, SIM Information, Contact details, Phone Model, Manufacturer details and other related information.
The software is capable to generate reports containing detailed mobile information and save at user specified location for future purpose.
Support all major Windows based mobile phones including PDA, Pocket PC, Hand held PC Device, Palm Device, Smart Phones, Palm OS platform device.
All major brands of Windows based Pocket PC mobile phones are supported that includes AT&T Tilt, Audiovox, Anextek, Asus, E-ten, HP iPAQ, Hitachi, i-mate, Mitach Mio, Motorola, Nokia, Gigabyte, BenQ, Orange, O2, Palm Treo 700w, Siemens, Samsung blackjack, Sony Ericsson PDA Device and many more.
Software License Options:
Home/Single User Basic License
Corporate or Investigation Agency or Government Segment User License